Key Concepts In Marketing To A Digital World As A CEO Explained In New Article By Fannit.com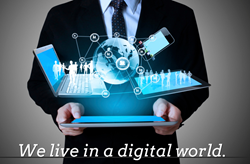 Seattle, Washington (PRWEB) June 05, 2014
In their recent article, Marketing To A Digital World: What CEOs Need To Know About The New Era Of Marketing, Fannit helps business leaders incorporate a marketing evolution that creates a new level of consistent, creative, and authentic marketing strategies across both online and offline channels.
Within the past ten years theres been a marked shift into an almost entirely digital world, Fannit explains. Traditional marketing efforts, such as print advertising, shows and exhibits, television, cold-calls, door-to-door etc., worked well by itself in a day and age where there was no other way that the public could learn about your company.
The article reminds businesses of the rise and expansion of the internet, stating that a lot of potential customers are more than happy to shut their doors in the faces of old marketing strategies. Their advice for businesses with traditional marketing methods? – A complete shift in the way marketing teams are developed and used.
The article goes on to explain that some businesses have tried to build separate marketing teams – one that specifically targets the digital world and the other the offline world. This segregation, they state, is a bad idea.
The article goes on to explain, This rift between teams causes a confused brand message, a jumbled voice, and a lack of unification and alignment. Consumers these days? They notice that, and they dont like it.
Instead, Fannit affirms that, by using a blend of marketing strategies gleaned from the expertise and experience of the various veins of marketing and the subsequent cross-collaboration, a business will be able to create a new level of consistent, creative, and authentic marketing strategies that will increase brand awareness, user engagement, and, ultimately, revenue.
This is why weve developed a marketing team that has a blend of different skills and experience, Fannit says. Technical promotion experts, analysts, web content professionals, social media marketers, and conversion rate experts all join forces seamlessly with your marketing team.
About Fannit

Fannit.com is a full service internet marketing agency that helps companies increase their online presence through engaging and well placed content. They service Seattle area and U.S. based companies with inbound marketing, content development, SEO, PPC, E-mail, Press Release, and Website Conversion Optimization.

Fannit

2911 Hewitt Ave

Everett WA 98201

425-359-7989
Find More Business Advertising Press Releases
Didn't Find What You Are Looking For? Search Our Site NOW!