Solix Technologies Signs Kronos to its OEM Partner Program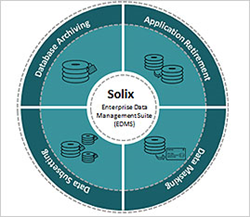 Santa Clara, CA (PRWEB) June 10, 2014
Solix Technologies, Inc., the leading provider of Enterprise Data Management (EDMS) solutions, has signed an OEM agreement with Kronos Incorporated, whereby Solixs database archiving technology will be embedded into the Kronos Workforce Central suite of workforce management applications.
Data growth is a major challenge faced by companies managing enterprise applications across all industries. Swelling data volumes can slow application performance, increase storage costs, deepen compliance risk, and expose business operations to outages. Solix database archiving provides an Information Lifecycle Management (ILM) framework that will enable Kronos Workforce Central customers to more effectively manage data growth challenges and enhance application performance, availability, and compliance.
With Solix, Kronos Workforce Central administrators will be able to archive workforce data based on their legal hold, compliance, and data retention policies. Solix database archiving enhances system performance and availability by archiving un-needed historical data from the production database to near-line storage for ongoing compliance purposes while simultaneously providing easy access to that archived data.
We selected Solix because its archiving solution is best of breed and lends itself well to OEM deployment, said Susan Rossnick, Vice President Engineering at Kronos. Our objective is to further reduce operational costs for our customers and further enhance their application performance, availability, and compliance.
As the global leader in its market, Kronos provides workforce management solutions to more than 20,000 organizations worldwide, said John Ottman, Executive Chairman at Solix Technologies, Inc. We are pleased to work with such an industry leader.
About Solix Technologies
Solix Technologies, Inc., the leading provider of Enterprise Data Management (EDM) solutions, helps businesses improve application performance, reduce storage costs, and meet compliance and data privacy requirements by achieving Information Lifecycle Management (ILM) goals. The Solix Enterprise Data Management Suite(Solix EDMS) enables organizations to implement Database Archiving, Test Data Management (Data Subsetting), Data Masking and Application Retirement across all enterprise data. Solix Technologies, Inc. is headquartered in Santa Clara, California and operates worldwide through an established network of value added resellers (VARs) and systems integrators.
Visit Solix Technologies on the web at http://www.solix.com and follow Solix on Twitter (@solixedms) and Facebook (http://www.facebook.com/SolixTechnologies).
Didn't Find What You Are Looking For? Search Our Site NOW!